Carib Beer XI vs G-Research, Regents Park,
Tuesday 11th July 2106
G-Research won the toss and elected to bat.
G-Research: 81 all out (17 overs); Carib Beer XI: 82-6 (16.4 overs)
Carib Beer XI beat G-Research by 4 wickets

Contending with a summer of trying weather conditions (three matches lost to rain so far out of six) and the perilous omen of a mid-afternoon downpour at Canary Wharf (previously known to lead to a loss of confidence), the teams assembled under threatening skies at Regent's Park and hoped for the best.
It turned out that the Minor Counties pitch was remarkably dry and bouncy - something that would work to our advantage.
Captain Martin had 'gently persuaded' three Carib members to step aside (many thanks to Messrs Willis, Holmes and Rogerson) so that he could invite his cricketing friends in the country, Quents (West Country Paceman, Somerset), Simon (form Yorkshire, lest anyone forget) and his son Henry (also emphatically from Yorkshire) for special guest appearances. Given the stature of the occasion, Simon's wife (and Martin's university friend) Jo and their second son, Nicholas (age 12) had also travelled down from Yorkshire giving us our record crowd attendance of the season so far.
As we lined up, G-Research admitted that they had had two drop outs. There was some discussion about lending players. But after Simon from Yorkshire's loud protestations about his LBW dismissal last year, when he was lent to the Bank of England, Captain Martin thought it better to maintain the peace with the country cricketers remaining in the Carib XI. This was already after a little kerfuffle when the Proud Yorkshire announcements had riled our Proud Lancastrian and Northern Bakery Magnate Mr Cordey on his arrival. Captain Martin stepped in, making an irenic attempt to calm nerves. However, what really did the trick as it turned out was the distraction of Captain Martin losing the toss (and the cacophony of abuse that that invariably leads to).
There was one further job to attend to, before taking the field. Captain Martin presented the orange ball to G-Research, but a new aspect in the coloured ball controversy emerged. He was told that one of their players was colour blind that prevented him seeing orange. Apparently red balls work all right because they are dark. Pink balls can pass, and without Rohit on the field to object, that could have been an option to try, but after a quick sight test, the G-Research player in question pronounced this orange ball good to play and off we went. Just for record for future AGM discussions, for we shall surely return to this contentious matter, the player did confirm that the orange ball was better than the pink one.
The Caribs ran out onto the field, and before we got underway, Captain Martin sought to welcome G-Research's Gabor, standing in whilst Mr Berry made the arduous journey up from Wimbledon. Well, after struggling with pronunciation, and being told not to say it as though it were Arabic, Captain Martin had to ask for a spelling and then resorted to a heavy Anglicisation of the name. The defence is that 'Gabor' does sound very different in Hungarian. Captain Martin's attempts to explain his travails with place names when he travelled in Hungary some years ago turned out not to help matters.
Still, the team set up stall, and set about producing a good, solid performance with the ball. Despite both our front line bowlers being out of the XI, Messrs Worthy and Rogerson, the Caribs had good depth in the bowling and nine players ended up getting a bowl.
Things got off to a lively start with our Top Fast Bowler, Swanand. Off just the third ball of the innings, the first wicket went down leaving us all rather addlepated. The bail seemed to fall to the ground a second or two after the ball had passed, on an evening when there was a noticeable breeze. Yet Keeper Bowen and First Slip Weave confirmed that the ball had taken the bail by the very slightest of brushes and so the batsman walked straightaway.
The innings went on with several further notable points and highlights.
Both the Miller family players took good solid catches. Simon's must be up for Nonchalant Catch of the Season.
A little bit later, Simon from Yorkshire fired in a ball hard from square on to the wicket and proceeded to hit the poor G-Research batsman, A.J., straight on the jaw. Valiantly A.J. continued on but then Mr Moss bowled him out the very next ball. Despite a questionable take on the spirit of cricket, Mr Moss turned in good figures of 1 for 5. It's worth noting that his new risk-averse bowling style now has him landing his front foot not only well behind the popping crease, but comfortably behind the bowling crease. The Bank of England's IT is surely in good hands with his approach to safety in the face of such margins of error.
Perhaps the capricious 2016 weather still had a laugh at us. The moment when the sun finally came out was just at the very moment when Mr Weave was attempting to catch a skyer. Needless to say it went down, with even Mr Cordey expressing sympathy.
There were a few other fumbles with the ball running through hands, through legs, or players running past the ball on its way to the boundary. But overall, it was a good, solid performance in the field. Captain Martin's fumbled stop turned to the Caribs' advantage as the batsmen saw the fumble as a chance to come back for a second, but Captain Martin got the ball back to Mr Berry at the stumps for a good run out. Special mention to West Country Paceman Quents for what was described as his "furious fielding". Always alert, running hard and setting a good example. And no fumbles.
Backing up is something that Caribs have had to work on over the years, but credit specially to Messrs Moss and Weave for their endeavours here, staying alert always when the ball came back into the wicket.
The wickets were shared around the bowlers. Mr Berry in his first bowling appearance of the season, finished one over with two wickets on the trot. To everyone's surprise, Captain Martin kept him on for a subsequent over but it wasn't to be the boy's-own-stuff-of-the-long-awaited-return, and sadly there was no hat-trick.
Young Yorkshireman, Henry Miller opened up the Carib innings with regular opener, Mr Weave. It soon became apparent that G-Research were a rather stronger team with the ball than with the bat. Henry from Yorkshire, with his special bat, now under investigation by MCC, shaped up well. Solid straight bat work for the first two balls, and then a pull for four, backward of square. Horror befell him the very next ball when he was clean bowled playing down the wrong line. When Captain Martin asked him what had happened, he replied "I just missed it." Perhaps the one brief moment when he felt deracinated from his native grounds in the north.
Mr Weave stuck around, giving a steady 8 runs off 24 balls, whilst Mr Bowen at the other end was picking up anything that he could to knock to mid-wicket.
Luckily the good bounce at Regent's Park played to our strengths. Some of our batsmen (Mr Bowen, Goochie) perhaps lack some of the foot movement one might expect to see from top order batsmen. On the damp wicket at Tooting last week with the low bounce that was fatal. But with a good eye, both players were picking the ball well at Regent's Park, and striking it well.
The Caribs had got off to a slow start: just 30 for 3 off 9 overs. Murmurs of concern were starting to rise at the boundary edge. It took one of our Essex Boys, our own Goochie, to put in the innings of his life and to turn it round. Sometimes one need to ride one's luck, and Goochie profited from being dropped on 6, before going on to put in a career best innings of 15 runs, including two hard-struck boundaries, and off only 17 balls. Goochie had queried the decision to send him in number four. No doubt Goochie will expect this to be his permanent place from now on.
The score trundled on, to 44 off 12 overs, and then the Caribs drew an explosive 16 off the 13th over - well two boundaries supported by quite a few extras. Simon from Yorkshire moved the rate on at over a run a ball, and ended up top scorer with 17 not out. After Captain Martin made a brief 5, West Country Number 11 Quents came in. Before striding out, Quents had been recounting the story of a grudge he has been harbouring against Captain Haigh since school days. That was some 30-odd years ago but the Caribs in attendance could hear that the feelings were still raw. The matter was about an incident when Quents ran three in the time Martin took to run two. Quents was promptly given run out and WILL NEVER FORGET IT. Still, with Captain Martin despatched, it was left to our Somerset-Yorkshire alliance to see us home and dry. Quents survived two balls, including hitting the winning run off a leading edge landing in no-man's land behind leg slip.
A.J. showed his resolve joining the party to the Green Man, ensuring that he didn't want to miss out on his restorative pint, before heading off to A&E to have his jaw checked out. G-Research were fine opposition, playing in exemplary fashion, a credit to the spirit of cricket. The country visiting players pronounced it a brilliant evening.
Finally, here are the ratings given by Nicholas Miller (age 12), with an especially harsh (but amusing) judgement of his father.
Simon Miller. 6/10
Not very athletic in the field. Didn't have much impact in the game. He was very much dead wood although he bowled well. Overall a good batting performance but his fielding let him down. Also he produced the most unsporting and a jaw breaking throw at a poor gentleman who was totally innocent.
Martin Haigh. 7/10
Good captaincy but we didn't see much of him I the field but was okay for a southerner. Very much the same as Simon but he fielded a lot better than Simon. Overall a good leader.
Henry Miller. 7/10
Good in the field. Bowled well considering he isn't a great bowler. Though his batting let him down. But he was promising when he hit the boundary.
Quentin Edwards. 7/10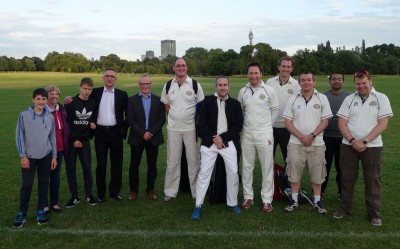 Carib Beer XI Win by 4 Wickets
Scorecard
| | | | |
| --- | --- | --- | --- |
| G-Research | | | |
| Matravers | | B Kant | 0 |
| Ecan | hit wicket | B H. Miller | 4 |
| Chugh | | B S. Miller | 5 |
| Parkinson | | B Haigh | 19 |
| A.J. | | B Moss | 5 |
| Lennon | C S. Miller | B Berry | 8 |
| Patton | C H. Miller | B Haigh | 0 |
| Bellamy | | run out (Haigh / Berry) | 10 |
| Hargitat | C Bowen | B Berry | 0 (1) |
| Matravers (2nd innings) | | B Cordey | 10 |
| Chugh (2nd innings) | | not out | 1 |
| | | | |
| EXTRAS | | 4b 1lb 1nb 9w | 15 |
| TOTAL | | (17 Overs) | 81 all out |
| | | | |
| Kant | 2-0-7-1 | S. Miller | 2-0-7-1 |
| H. Miller | 2-0-8-1 | Edwards | 2-0-7-0 |
| Moss | 2-0-5-1 | Haigh | 2-1-2-2 |
| Weaver | 2-0-12-0 | Berry | 2-0-20-2 |
| Cordey | 1-0-5-1 | | |
| | | | |
| Carib Beer XI | | | |
| H. Miller | | B Lennon | 4 (4) |
| Weaver | | B Patton | 8 (24) |
| Bowen | C and | B Chugh | 11 (16) |
| Rayner | lbw | B Parkinson | 15 (17) |
| Kant | C (deep midwicket) | B Bellamy | 9 (15) |
| S. Miller | | not out | 17 (15) |
| Haigh | C Parkinson | B Lennon | 5 (5) |
| Edwards | | not out | 1 (2) |
| Moss | | | |
| Cordey | | | |
| Berry | | | |
| | | | |
| EXTRAS | | 2b 1nb 7w | 10 |
| TOTAL | | (16.4 Overs) | 82-6 |
| | | | |
| Lennon | 3-0-14-2 | Parkinson | 4-0-16-1 |
| Patton | 3.4-1-15-1 | Bellamy | 3-0-11-1 |
| Chugh | 3-0-24-1 | | |